I am wondering if the problem I am having displaying .jpg images in a descendant wall chart using the export function from my RootsMagic7 program is only a problem when RM runs on a Mac, or is it a problem on RM for Windows too?
Here is a quick description of the issue I encountered. My exported wall chart contained badly pixelated copies of people's portrait images despite how the original image digital files and similar descendant chart output from my old FamilyTreeMaker program all have been very crisp and clear.
1 > Copy of on-screen image from my RootsMagic7 program:

2 > Partial copy from my descendant wall chart created using my RootsMagic7 program that shows example of bad pixelation: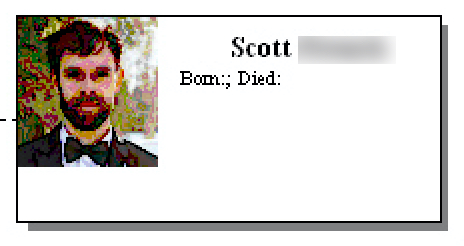 What I am certainly hoping is that when RootsMagic8 comes out, this problem will have been resolved!