I'm interested in learning the extent with which media files attached to your RootsMagic database have become duplicated over successive migrations of data between databases, TreeShare downloads and updates, WebHints acceptance, etc. It's my expectation that a database that has undergone many updates from an Ancestry Tree via TreeShare is liable to have a larger proportion of duplicate media files than one that has just been downloaded.
Please respond to this post or its sibling on Facebook with your observations of what CCleaner says about your database's media collection.  
The key settings for evaluating one or more folders and sub-folders for any or selected file types are shown in this screenshot.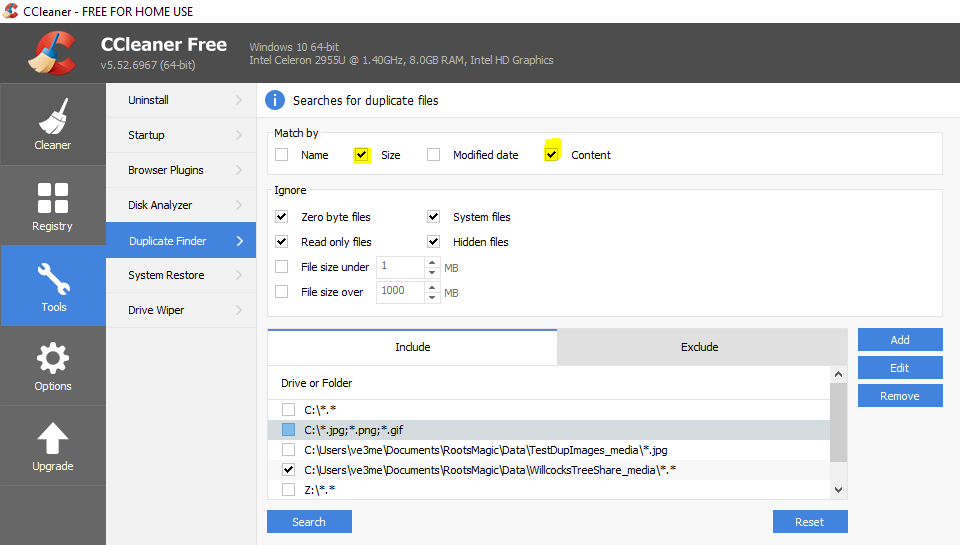 DO NOT TICK THE BOXES "NAME" AND "MODIFIED DATE". DO SET THE PATHS TO INCLUDE TO YOUR OWN DATABASE' MEDIA FOLDER.
Other than your subjective reaction, these numbers are of interest:
From RM's File >Database Properties, the number of items in its Media Gallery.
From CCleaner's analysis, the ballpark number of duplicate files in your database's media folder.
Thanks!