I needed a compact 6-generation pedigree chart as an illustration for a 2-page report for my local Society on my ancestors living at the time of Canada's Confederation in 1867. I had done one using the RM Pedigree Report for another member but he had half as many ancestors to cover - I'll describe it separately because it, too, was a challenging, learning experience. For my report, I gave the RM Ancestor Wall Chart a try. Here's the result, tucked into the lower left of the page: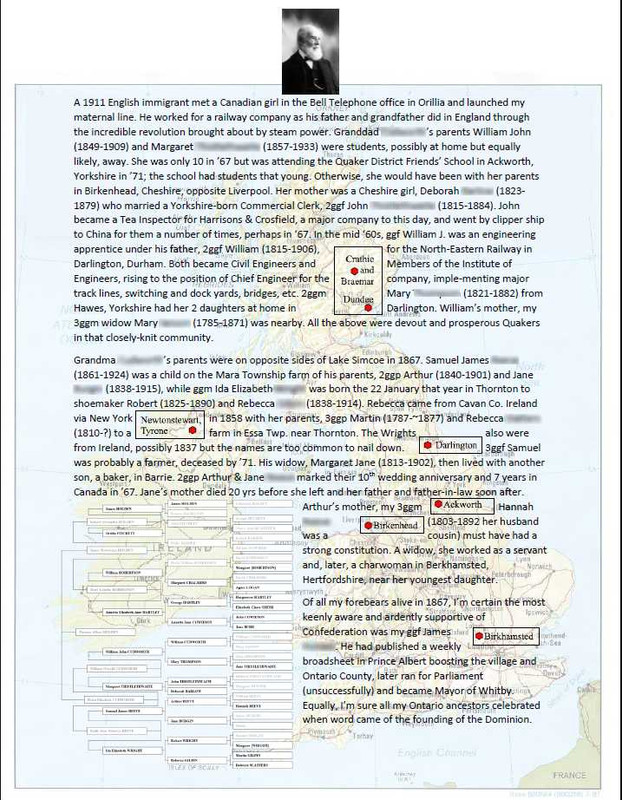 Here's a comparison of a compressed pedigree to the original generated by RM.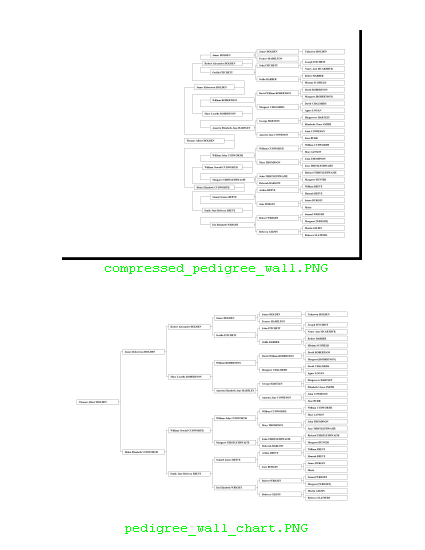 Had I used the original, I wouldn't have had enough space for text. The overall process involved editing in RM Wall Chart to mesh the columns for the first 3 generations into the fourth column, exporting a PNG, cropping with Paint.net along with deleting the white space outside the boxes (its selection wizard makes that a 2-click operation) and inserting the revised PNG into the Word doc. 
Editing in Wall Chart is tricky, partly because the objects RM generates have dimensions and locations that don't correspond to the default grid or to any practical grid and there are hard-coded dimensions that a link can revert to when moved. Without snap-to-grid, multiple columns or a single column can be selected and dragged and the links stay rectilineal. But, ultimately, they start crossing through adjacent boxes and vertexes need to be moved. Moving a vertex may result in a segment on an angle. This can be very hard to correct. Working in 200% zoom to move a vertex lowers the risk. Dragging a segment regenerates the rectilineal polyline that goes where you do not want it but you can start afresh on it. 
Working with snap-to-grid may actually compound things - I'm not sure. I set the grid spacing to 0.1", select and group a column of boxes and then adjust the right and left sides to snap points and then move it. Link lines may need to be tweaked as they do without snap. At times, I have resorted to deleting the link and creating a new one (the blue L control, not the black L in shapes). 
RM color coding has no effect on the chart text, only on the box fill. I wanted the boxes white and the names of those not alive in 1867 subdued. That was easily accomplished on this small chart by selecting multiple boxes and then changing the font colour through Properties. 
I found the Chart Help to be superficial and suspect there are features that are not even described. Nonetheless, if you need a one-off as I did for this report, you aren't completely at the mercy of the standard output.